Everywhere you turn these days there are more forecasts of gloom, doom, increasing debt figures and signs of confusion over how to deal with the UK leaving the EU. It is as if news columnists and commentators can't get their heads around what has been happening to us. It doesn't take much imagination to come up with a whole long list of all the bad things happening at home and abroad. The world all of a sudden, doesn't seem a very stable place. And people are at odds with the views of neighbours, friends and family.
As you can see I am still at odds as to how to cope with the negatives all around. So the last few weeks have involved making a concerted effort to find ways to concentrate on the good things in life. As it is Autumn, the home knitting and crochet of myself and a friend have been passed on for delivery to parts of Africa where they are badly needed.
This is the summer's total, assembled for delivery. I can vouch for the soothing influence of wielding the crochet hook and concentrating on the needs of others – particularly small children. Lorries of collected home-mades travel the length of the country and on to their destinations in unstable countries. They help only a little. But it is a start.
Over the weekend HBTW, Misty and myself went to a 50th Birthday Ceilidh. It was unique and very special. Not just because it was in a Cathedral, albeit a small one, but because of the mix of ages and the live band – The Last Tram tae Auchenshuggle.
St Mary's Episcopal Cathedral refers to itself as – open, inclusive and welcoming – and that is truly what it felt like. Perhaps I should mention that they achieve the same sense of welcome in their services as well. Such a recommendation from a dyed in the wool Presbyterian is all the more pertinent.
Misty enjoyed wearing a party jacket and making lots of new friends. Apologies for the quality of the photo, it was from Himself's phone. I was too busy meeting people and catching up with friends to take photos. A friend recently commentated on the tendency of Christians to have miserable-looking faces. I had to agree that by and large older church-goers could look a bit sad and craggy, though I think it is probably more due to age and gravity than disposition. Well, there were no sad faces at this birthday celebration.
The choir chairs and altar were removed from the front of the church to make a large area for the dancing. Light drinks were served from one side at the back and food was available at the other side. There were chairs and tables scattered about and people arranged themselves there or dotted in amongst the pews.  The lighting was dim, with fairy-lights twinkling round the ornate "screen" near the front. (Sorry for not knowing all the technical names of things.)
I find myself reflecting that heaven might be a bit like a ceilidh – boisterous, lots of laughter, food and drink and pleasure in people being together. I used to say to people that heaven was whatever you enjoyed most, or whatever you wanted it to be. My view now tends to be rather more mystical, but a heavenly ceilidh is a good idea. Not too boisterous of course, and come to think of it not too much alcohol. Oh dear, maybe I am turning into one of those miserable faces after all.
OK enough of the mystical or non-mystical musings. Other ways to try and be positive have involved some lovely walks in the beautiful Autumn weather.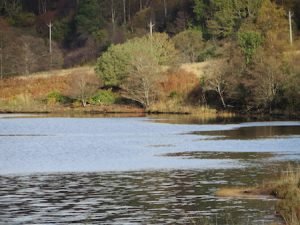 We found some new places to walk the little dog and we have enjoyed several picnics. Picnics by the way always have to include hard-boiled eggs and a twist of salt. They make all the difference and are a kind of tradition. Whenever Misty sees the thermos being taken out of the cupboard she starts getting antsy. She knows a Day Out or even a Half-Day is bound to follow.
Much to my surprise the weather has been mostly pleasant for the last few weeks, so the inside activities have been put on hold. Now that I have put this into the ether, as it were, we will no doubt get some wind and rain. Then it is time for the artwork and writing. How are you, dear Reader, getting on with your Autumn? I would be interested to know. And of course if you feel like sharing your views on heaven, then that would be fascinating too. (I'll duck in case you feel like shouting – Heaven! Don't be ridiculous.)
Blessings from Dalamory.