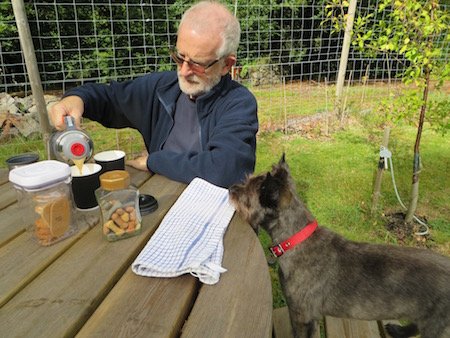 A neighbour was lamenting how fast the year had gone by. Of course what he meant was that the summer was long gone. We stood round as elder-people do, commenting on the fact that time flies past more quickly with each succeeding year. I came home conscious of the fact that I had not done a blog post for a number of weeks; rectifying this has been one of the main things on my agenda for today. Hence this photograph. For me it represents the ideal picnic. Misty is included, we are warm and dry enough to sit outside and all is right with the world.
The trouble is that so often these days it is hard to concentrate on the good things in life. Newspapers scream of the latest atrocities in Aleppo or in the Scottish Parliament and positive items seem to get forgotten. I have dreams of writing opinion pieces on this blog which will lift spirits or somehow bump political heads together, then I crash down to reality as I come to terms with the horrible truth that as an individual I can make little difference. I think back to illustrations I have used in sermons about tiny drops of water wearing away concrete or stone, or snowflakes landing on the branch of a tree until the branch breaks. And I think of the medics in Syria and other war-torn areas struggling to make a difference, often under bombardment themselves and faced with shortages of even basic medical supplies and equipment. Then I feel ashamed, because it is all very well talking about practical help but quite another to roll up one's sleeves and get on with it.
I've spoken before about my timidity in saying things as they are, because I am anxious about becoming the target of cyber-trolls. Then I get a measure of comfort because after all, people reading What's the Story. . . . ? are more likely to be seeking a spot of whimsy or pictures of dogs or the beautiful Highland countryside.
My guess is that a lot of people cope by switching off the news or closing the paper. And in all honesty, who can blame them? People still have to earn a living, or find a purpose in each day or simply do the chores and feed themselves or loved ones. It's difficult to do that whilst wallowing in empathetic  grief or helplessness. So I forgive myself and like a friend said to me today – think positive thoughts – a kind of prayer if ever there was.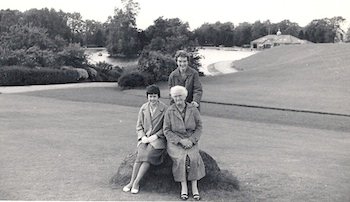 This photo of the three generations of women (my mother, grandmother and self,) illustrates what my inner world has been like these last few weeks. Don't think for a moment that I have gone quiet or been in sleep mode. I've been concentrating on the Dalamory Memoirs, and have reached the time just a few months before getting married. It has involved writing about some very difficult issues. Let's face it, the relationship between mothers and daughters is often fraught with tantrums, disagreements and misunderstandings. Let me assure you they are not all mine. Anyway, it has also concentrated my mind in particular on the changing role of women in the world over the last fifty years or so.
Women suffer in all sorts of ways, just as women know great joy. But in these times of war crimes, death and destruction it seems to me that women and children bear an unequal burden. As a teenager I failed to understand how my parents' generation could have allowed the tragedy of concentration camps. As a retired elder-person I know how it happened. It must have been a kind of helplessness coupled with a disbelief that people could be so cruel.  It is like that now. So somehow we have to grasp every day and live it the best way we can. And if we have a bad day, then we pick ourselves up and try to do better the next day.
That brings me back to the seasons slipping past. Autumn is here and inevitably it will be winter sooner that we think. Every September at the start of the new academic year I used to enjoy making pretty diagrams of plans for study and enjoyment and learning new things. Why should it be any different for a retiree?  I'm not so clever with my computer and pie-charts, but I could have a go at learning. As the nights draw in – and they are already – indoor hobbies and occupations become important. Perhaps I need a timetable for all the things I keep promising myself to do. This week's big achievement is to get back to regular piano playing. There is a story there but it is for another time.
If you have managed to read this far, how about sharing something from your winter to-do list? Or your thoughts on how to cope with world events.
Blessings and positive thoughts from Dalamory to you and yours.