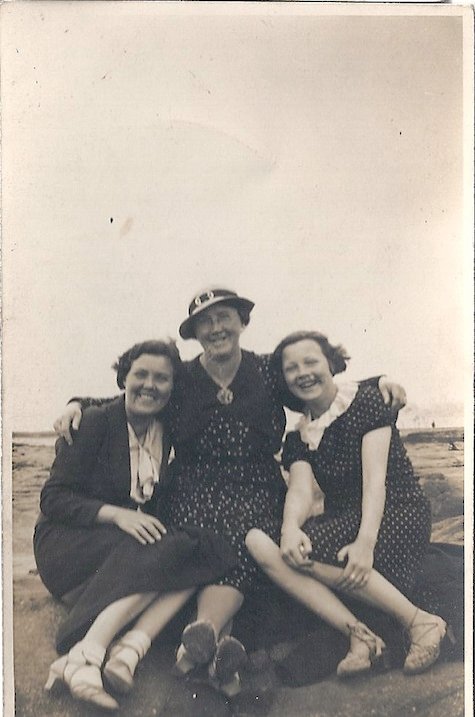 You had no thought of me, for this is well before I was born. You look so happy sitting being cuddled by your smiling mother with your big sister on the other side of her. It looks like you are on the beach, though your sandals look too flimsy for sand. So you had your carefree frivolous times too. I like to think of you being glad. I wonder who was taking the photo, perhaps Grandpa, your Dad, your favourite so you always told me.
Gran was always especially kind to me, as if she knew that the effort of having me had all but wiped you out. But let's not think of dark days on this day before Mothering Sunday, instead let's imagine your life in the early 1930's. Treats beside the sea were all too rare. Your father's life down the pit didn't leave much time, and in those darkening days before the War you must have taken your fun where and when you could.
Did you ever dream of the future? I wonder if you thought of a pair of dark eyes, a quiff of brown hair and a slim white shirt tucked neatly into a pair of slacks? I know he mattered to you, for I was the one who found his photo tucked into the back of another one in the family album. You told me his name one day and said he cheated on you. Then your eyes looked into the distance and you sighed. I was scared to ask any more questions. But I do know he was not my Father. My Father made you sigh more and more as the years went by, then you cried, then you shouted, then you cried some more and he was gone.
You died in 1992 full of tears and sighs. I am older now than you were then and when I am having a fragile day I often think of you. But things are going to be different. When I remember you – on your birthday, or Mother's Day, or the day of your death – I am going to remember your own grey eyes and the happy face on the beach, there for always with your special people.
  * * * * * * * * * * * * * * * * * * * * * * * * * * * * * * * * * * * * * * * * * * * * * *
Birthday Treat today was bathing Misty. She really enjoys a warm to middling hot shower. And another treat has been to find and think about the above photo.  My Mum is the one in the polka dot dress on the right. My Gran is in the middle and her oldest daughter – my favourite auntie is on the left.
Happy Mother's Day thoughts and dreams to everyone.