In these pages I often make mention of my Scots Granny. She played a huge part in my childhood, simply because she was such an accepting presence. I was the oldest of her grandchildren (8 ultimately) and even now I remember her most days. My Mother could be such a demanding person, and though I tried hard, it felt as if I usually fell short. As I get older I realise that things are rarely that simplistic. There are all sorts of conflicting emotions and the relationship between mothers and daughters is highly complex.
This week in the UK is Dementia Awareness Week, and that brings me back straight away to my Gran. Sadly in the last years of her life she developed dementia and finished her life in a special care home. It occurs to me many a time that I have possibly inherited her arteries, she too, had atherosclerosis, but she didn't have the benefits of modern medical care. That's why I am happy to be good and take all the tablets I should.
When I was doing a trawl for the tennis photos, I kept coming across ones of Granny. They are not in good condition, but I want to share them here in a kind of tribute to her, as well as flagging up the whole subject.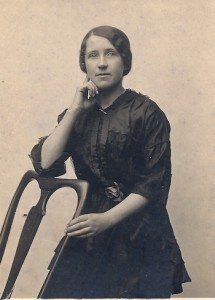 As we get older, many of us are frightened of developing dementia, Alzheimer's Disease or another ageing disability. So it is good to hear of positive news about treatments and care. Some of the care homes in the UK are pioneering innovative ways of helping their residents to cope with the effects of dementia. The residents are encouraged to take part in everyday tasks like setting tables, peeling vegetables, dusting or light gardening.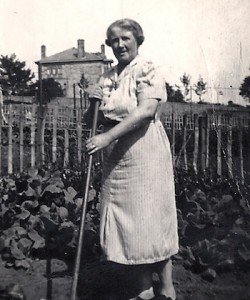 Each new person is medically assessed on admission and wherever possible the medications they take are reduced. This means they are less likely to sit around all day sleeping in chairs. It all seems so obvious and logical when written down, yet it has taken extraordinary managers to see what should have been quite obvious to anyone with any common sense at all.
The report I read did not specify whether the care costs were higher, or what the medical implications were for the future. However, it seems to me that costs in this debate are almost obscene. We all need to do our best for those people who fighting this terrible disease, so that at the very least they become more like survivors living with it, rather than people becoming victims with little or no hope for the future.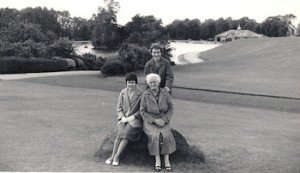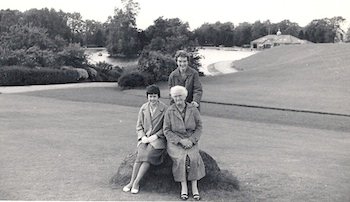 Here is a photo of the three generations…… My Gran, my Mum and Me.
And a final shot of me with her. One of my first memories.