A new variety for this year – David Austin
It seems to like its new home.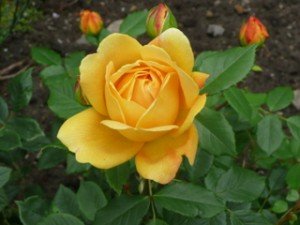 Because last winter was so cold and bleak, we lost many of our plants to the frost and the deer. The poor animals were haunting the gardens trying to find anything vaguely edibly. They decimated the ivy and even stripped a prickly holly bush. These desperate tactics have been life-saving for some, and we now regularly see golden, honey-hued sleek animals looking plump and content. Makes me feel a lot more hopeful for the way that nature adapts. Any gardener knows this. If you look at the sleeping plants in very early spring, they look sad and defeated, then as the days get longer things perk up and the rush of new growth bursts forth in beautiful foliage and glorious growth.
It's no wonder that religion and philosophy turn to gardening metaphors to illustrate hope and renewal.
It's not a bad aim to try and look out for the special thing that gives us hope and a lift each day. I wonder what kinds of things people find inspiring?