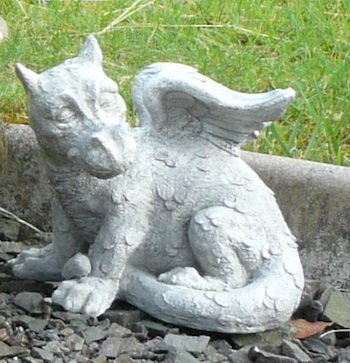 There be dragons in the garden; in fact they have been rescued from the local garden centre and given the mission to stop the collared doves pulling up the newly planted pots.
The pots are a wonderful way to inject some instant colour, though this year it is significant that we have been too wary of overnight frosts to plant until now. Anyone would think we lived in Alaska or somewhere. No – just Scotland in a bad year.
There has been some success with camouflage planting (that's the oil tank lurking in the background.) Unfortunately, this is a hidden corner of the garden as well. In other words, no space or inclination to sit and enjoy.
A larger dragon is on guard to watch over the tank; he is on slug watch as well, I hope.
Filling empty containers with compost, getting your hands dirty and re-planting fully grown flowering plants is a wonderful way to garden…. beloved of gardening enthusiasts on TV. The trouble is that the on-screen gardeners always show five times the amount of pots and plants that an ordinary gardener can justify buying! Never mind, maybe next year we shall be able to invest in some plants that can overwinter in the extreme temperatures we've been experiencing the last few years.