I love this story….
There is this little wave happily bobbing along in the sea,
and then he suddenly sees that the waves all crash onto the shore.
Understandably he gets really upset.
Then along comes another little wave who asks what is wrong.
The first little wave says, "We're all going to crash!"
But the second little wave says,
"It's OK – you don't understand, we're all part of the ocean."
I mentioned it here, six years ago.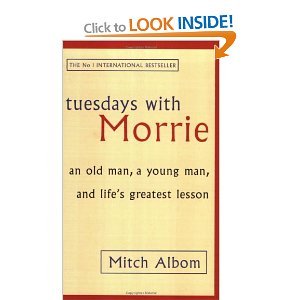 My suspicion is that I was probably reading the same book back then, Tuesdays with Morrie. It is an account of Morrie Schwartz – his life and his death – written by a previous student of his, Mitch Albom. Morrie has motor neurone disease and contrary to what you may suppose, it is one of the most uplifting books on living and dying that I have ever read.
I picked it up again this week to help make sense of one of the media topics of the week: assisted suicide or euthanasia. I have written about dying in several places in my blog, indeed it was one of the subjects I studied as a topic in my Honours course in Practical Theology. Over the last 25 years of so my own position on the subject has become informed by relatives who have died and books I have read.
This week the BBC showed a programme fronted by Terry Pratchett, who himself has terminal Alzheimer's disease. Terry is interested in treatments, but also in terminal care and the implications of assisted suicide. The film – Choosing to Die – shows Terry accompanying a dying man to Switzerland, which is the only place that offers help with suicide to dying people from the rest of Europe.
Leaving aside the ethics of suicide and the legal obligations of relatives and loved ones, there is a point to make as far as I am concerned which shows how flawed the UK position is. If someone is dying and wishes to terminate their life rather than face the pain and indignity of a possible awful death, they are put into the position of having to choose to die sooner than they might wish to, simply to avoid their companions being subject to a jail sentence of up to 14 years on a charge of assisted suicide. To be absolutely sure that there will be no prosecution, the person dying must be able to arrange travel, physically get to Switzerland and able to lift and drink the poison which will kill them.
With regard to my views on euthanasia and assisted suicide in cases of terminal illness, I would want to see a position where everyone is assured of a dignified and peaceful death. Sadly, this cannot be guaranteed. Even more sadly, it too often happens that an individual dies in pain and alone in a medical facility devoted to mending people's bodies rather than specialised in helping them to die well.
I believe that the way we treat our vulnerable people, our dying people and our disabled people, is a measure of the way we are a caring society. Sometimes we do brilliantly, at other times it all goes wrong. Terry Pratchett is facing a future where his mind disappears little by little; thousands of people face similar things day by day. On a weekly basis here in the UK we read stories of cruelty and abuse towards the vulnerable in our midst.
So – my prayer today is, that all the little waves are helped to overcome their fear, and that we all join joyfully and smoothly into the ocean, where we know the depths of belonging and love.