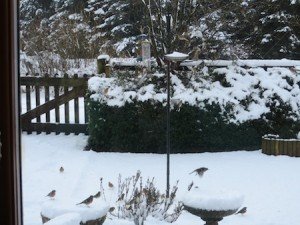 Woke up this morning to discover that the snow was lying. Usually by March we are starting to have better days, but this year just goes on colder and colder. You can see the loss of the Honeysuckle Trellis and how bare it looks. Any ideas?
The birds were enjoying an early breakfast at the feeders so I sat and enjoyed coffee and a happy half-hour watching their chattering and squabbling. I never fail to remember a certain elderly parishioner – someone lovely and gracious, who made the best of life – whenever I visited in daylight we sat together at the window looking at the birds enjoying the nuts. I usually thought to myself that I hoped I had a bird feeder I could watch in retirement. The time passed all too quickly, and in a few short weeks I shall have been retired for 10 years. Yet another anniversary.
So today's Birthday Month treat has to be watching the birds in the snow. What's your daily happy moment?