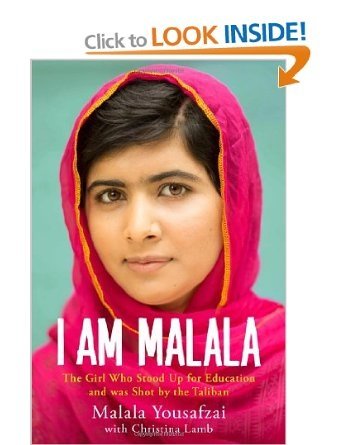 I am Malala is one of those books which is potentially life-changing. Here is a young girl who stands confidently before politicians and world leaders, to express her belief that all children have the right to an education. In the context of Pakistan, this means especially girls. She comes from a remarkable family, where her parents are proud of her, despite the fact that she is a girl. In her culture there are many people who support the view that women should not be seen and not be heard.
Nobody keeps Malala quiet. Not when she is calling out for the rights of women and girls to be equal alongside the men and boys.
She was already well known in her own country as an advocate of equal rights and after the shooting in late summer 2012 she became an icon for education worldwide.  The book helped me to visualise her valley of Swat in northern Pakistan, especially when they were under the undue influence of the Taliban. I had not appreciated the violence that occurred on an almost daily basis from suicide bombers and the like. These troubles were throughout Pakistan, but in the remote provinces there was at times a type of lawlessness that bowed people down. Malala explains what it is like to grow up amidst such terror and when food could be scarce. Hers is a brave and bright story, she shares her happy times as well as her sad times. But through it all her determination, courage and beliefs shine through.
Her family is temporarily in Britain, near to ongoing medical treatment that may be requred. But as to the future . . . . . who knows?
When I described the book as life-changing I meant that it is impossible to read this memoir and not be touched and drawn into the shocking state of affairs whereby around the world there are 57 million children who do not go to primary school, (32 million of them girls.) In Pakistan 5.1 million children don't get to primary school, though the consitution says every child has that right. Girls continue to be killed and their schools are blown up. Malala says her dream is that all children should receive education, and that there should be Peace in every home, every street, every village, every country. No wonder she was nominated for the Nobel Peace Prize.
I am Malala, is not what I would call an easy read. Sometimes it is heart-breaking and at others it makes your heart believe in dreams and miracles. What we see, is hope unfettered and dreams unchanged. A good lesson to learn for Oldies like me.