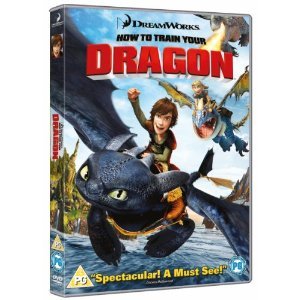 When I see the Dreamworks logo at the start of a film, I know it is going to be something I am likely to enjoy. The days are not so frequent when I have little children to entertain and an overwhelming need to sit still and chill out. Thankfully, retirees don't need that excuse any more. So we settled down happily to watch this computer generated adventure.
Hiccup, a young Viking boy is a bit of a failure, his voice is admirably captured by Jay Baruchel, and the father – Chief Stoik the Vast is hugely entertaining and amazingly real – his is the voice of Gerard Butler. I keep coming across him and have a kind of love/hate fascination at the roles he plays: The Ugly Truth and The Bounty Hunter come to mind. Butler was born 60 miles away from where I live and is making it big in Hollywood.
The story is about the village and their relationship with dragons.  I don't want to give too much away so let's just say that their fear, hatred and sheer Vinkingness are transformed by the friendship between Hiccup and Toothless, a dragon I couldn't help falling in love with. So successful is this pulling of the heart-strings that I had an "Oh no I can't bear it moment" when all seemed to be going wrong for Toothless.
The film is funny, full of pathos and a great romp of adventure and colour. I'm not surprised it is a PG – there is much to explain to children in terms of seemingly endless violence and stereotyping at the start, but it is all in the context of the best "cartoon capers tradition," so maybe it will give children less cause for upset than me. It has a good moral too, as well as a happy ending.
Not a DVD I would have gone out to buy, but well worth having on the shelf for when the tweeny generation of grandchildren come to stay.
Has anyone else seen it?