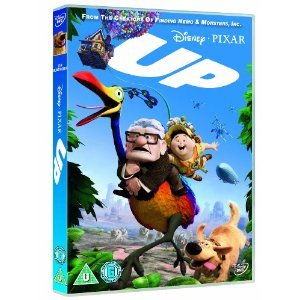 This is a wonderful film to watch with children I should imagine. OK I confess, HBTW and I watched it on our own. Who needs mindless violence, gratuitous sex and dialogue you can't understand when you can have an adventure story with a moral in the tail, plus loads of quirky characters, especially the dogs and the big bird?
The moral tale is about giving time to one another, the pack of dogs are truly wonderful and are easily diverted from bad things by producing a ball to play with.
Basically, a young couple fall in love and get married. Ellie, the wife, dreams of going off on adventures and exploring the world. Somehow, ordinary life gets in the way. When Ellie dies her husband decides to have the adventure himself in her memory. Russell, a young Wilderness Explorer (akin to the boy scouts/cubs) gets involved. The evil to be overcome is that of a curmudgeonly, previously famous explorer who is engaged in nefarious black deeds for his own ends.
The film is entertaining, and has beguilingly beautiful graphics and characters. It brings out the inner child (no bad thing) whilst at the same time giving meaning to the process of ageing and loss. I would happily watch it again – but then I was hooked on the dogs.