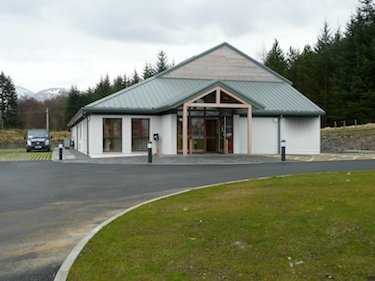 This is our new community centre – the result of 12 years hard work by many volunteers who have done a marvellous job at bringing the project to fruition. As a result of all this, there has been a resurgence of all sorts of activities – again these are mainly run by volunteers.
At a recent open day HBTW signed us both up for ballroom dancing and last night was the first of a 3-month "term."  We duly turned up at 8pm along with a whole bunch of other eager potential dancers…….. I guess it is the result of the success of the Strictly Come Dancing phenomena. Thankfully there was not a Craig Revel Horwood in sight, nor was there an elderly host who tells terrible jokes. There must have been between 35 and 40 of us, all looking equally nervous.
The style of dress varied from jeans and trainers to smart skirts and fancy tops. Some of the women were well adorned in make up and jewellery, yours truly was more concerned with staying upright. Indeed there had been a slight altercation at the Dalamory Homestead as we got ready for the big night…… Himself favoured smart casual trousers, shirt and jacket (no tie) whereas I had on my variation of loose summer trousers, t-shirt and over-smock. (I wasn't going to have any midriff showing, that was for certain.)  I had a slight uneasiness that we didn't quite match but in the end it didn't matter. We had both purchased suitable shoes so all we needed to do was to remember the long-handled shoe-horn, a bottle of water and a small towel. Yes – I really thought it was going to be that much hard work.
Our teachers are an experienced couple of dancers who live in the village, so it felt like we were among friends. First off we had to sign up and then were given a sheet of basic dance floor etiquette. Oops!  I was floored at the start, too many lines of dance, against line of dance, down line of dance and so forth. As I realised that HBTW would have to steer, I relaxed. This was going to be one time when I would let him be in charge.
What a relief – the first part of the class was to be the waltz. We used to go dancing a lot in our youth, so surely we could manage this. The basic 1-2-3 was OK but when it came to the move called something like a zig-zag progression – (see, I've forgotten already.) it was more of a challenge. Basically it means doing a 6-step turn, followed by a 3-step break, then a 6-step turn in the opposite direction. Are you still with me? The good news is that there are lots of videos and sites online to help. On the other hand it might just muddle me up before the next class.
By half-time everyone was slurping from their water bottles and mopping red faces. This was real exercise. But great fun…. lots of laughter and tripping up, but in the end most people managed a passable basic waltz step. Thank goodness for tea-break. Then – can you imagine the horror when the dance coach said we would be doing a rumba afterwards. Yes – the lessons are to be for ballroom dancing and Latin. HBTW lit up – here was a challenge – he had to learn new steps himself and guide me in the right direction. It got easier when we tried it to music, but there is a long way to go.
By the way, did I mention that I am creeping and creaking about the house because of all the aches and pains?  However – it is well worth it.