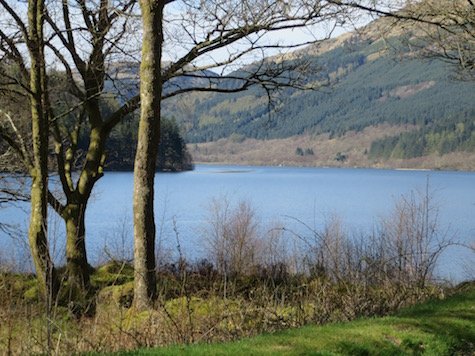 This has been a week for being out and about. Spring has come and almost gone all in the space of a few days.  After a lot of faffing about we decided on a change of car and that has resulted in several Days Out getting used to it. We have been able to put aside the loss of the campervan and enjoy the relative freedom to go on smaller roads.  The photo above is of Loch Eck and you can see that the leaves are not even on the trees yet. The last few days have seen a difference, so the canopy of green will come soon. I've heard a cuckoo, another woodpecker and seen sand martins, so all bodes well.
Catch up:
The dreaded visit to the dentist went really well.  HBTW confessed he had never properly realised how nervous I was of any dentist, and as he had made the appointment he felt quite badly. However, I managed fine and was suitably reassured.
As well as a rural outing we did some retail therapy at a Dobbie's Garden Centre. More to look than to buy, though we succumbed to some kitchen equipment in their hosted Lakeland outlet. The main point of the journey was to get an electric sonic scrubber to clean round difficult areas in kitchen or bathroom. Guess what? They had sold out.
Dance Class seemed to be more energetic than usual; what with the Cha cha, the Samba, the Quickstep and a Waltz my hips felt as if they belonged to somebody else and my knees felt as if I had left them at the dentist.
Household chores have been left undone for the last fortnight – Oops.
We had an unexpected visitor and caught up on all the news. All the better as there was no preparation to do except to add in another burger and some extra oven chips.
New project on the go is to think about how to write my Memoirs. That sounds terribly grand, but it is not really the case. I was interested in an article in a magazine which recommended organising one's thoughts to leave as a legacy for coming generations. I have enlisted some help from a member of the second next level of family, so that there is someone with a listening brief who can try to keep me on topic. As you, Dear Reader, will know, I have a tendency to wander off into the byways of the mind.
Oh yes – I've been enjoying all the documentaries about the Queen who was ninety this week. She has been Queen since I was eight years old so has been the kind of background to most of my life.
Right – that is you more or less up to date with what has been going on in Dalamory. I do hope things are good for you and yours. I would love some ideas and thoughts on sharing memoirs and stories of old, particularly if you have had a go at writing your own.