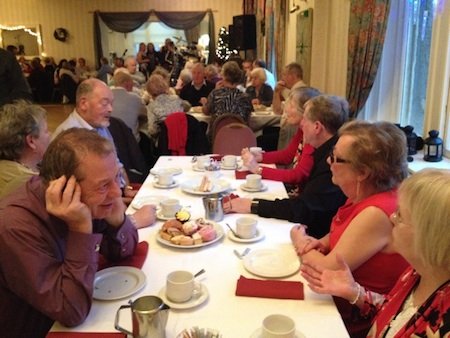 Perhaps this post should be entitled Having Fun or Decadent Afternoon. In any case it was a new experience for me to go to a Tea Dance. To be honest it was all a bit of a rush, but turned out to be well worth it. I had envisaged something rather genteel and poorly attended, whereas it was packed out and at times raucous and noisy. And I should add here that there was very little alcohol – though I did see two miniatures being displayed on an adjoining table.
There was a live and very lively swing band; they proceeded to serenade us with songs we  all knew well. There were some youngish participants amongst the assembled company, but in the main I suppose it is only the nearly-oldies who have the time to give up a Saturday afternoon to sheer fun. Two bars of Moon River and the Dalamory Dance Class was up and at it. By the time we got to the second half the band was into rock and roll, sixties hits and Elvis. Most of the assembled company joined in one way or another – even reviving the hand jive with some success.
A good St Andrews Day dance to start the run-up to the festive season. Now I had better start taking Christmas seriously. How about you?