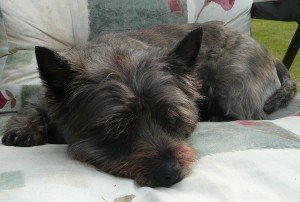 One of the things that makes me laugh about Misty is the way she likes to have routines. By the way, a lot of the time I am laughing with her – you can tell by the bounce in her step and the extra twinkle in her eyes. Each morning she goes out, then comes back to bed for a snuggle and an extra snooze, then after I am showered and dressed it is time for her eye ointment. She has no natural tears in her right eye, so each morning she comes to remind me, jumps up on her special chair and tilts her head to the left to make the procedure easier. Then of course it is half a dentastix, which she proceeds to "kill" by pouncing at it and ultimately rolling on top to make sure.
Humans adopt routines too; I often think about how it works when doing the morning ablutions or facing up to the need to get down to some (less frequent than ever,) housework. I am sure of one thing though; as I get older it is especially important to have set places to put keys, mobile phone and wallet etc. It means there is less of a scurry when it is time to go out. I used to be always flying out the door with hardly enough time to catch a ferry, nowadays it is more likely to be an appointment for medical needs.
Whatever the habits and routines we build up, it's true to say that time seems to go faster and faster as we go through life. No sooner are we dressed than it seems time to get undressed, and even in retirement there are things I never seem to get done. When do we start to become creatures of habit? When do habits become the established custom? And worst thought of all – when do they become an addiction?