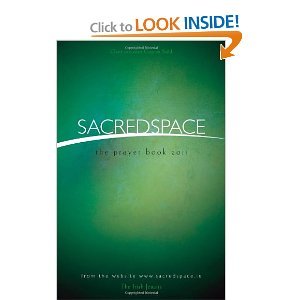 Part of my meditation and prayer routine is to use the prayer suggestions produced by the Jesuits in Indiana, USA. And most years I have managed to buy this online via amazon. Unfortunately this year it seems to only  be available from the American website, not the UK one. No problem, thought I, it just means one click ordering and it will arrive shortly. Sadly, that has not been the case, and now that I have checked online there was an order delay of 1 or 2 months!
Now – the prayers run from Advent, which is the start of a new church year. Yikes, it's next Sunday. Oh well, that means that I shall have to find other things to go along with the other material I also use. All well and good, but I was talking recently about the development of habits and routines that made life easier day by day, so I wonder how my spiritual life will survive this little challenge. It will probably be good for me. In fact, I'd be grateful for any suggestions and ideas that you may have that have worked for you. Or maybe you are the sort of person who advocates breathing and relaxation, or looking at a flower or candle.
Here's one of the prayers I've quoted before.
Take time off each day to think and pray
To care how your life is going.
Give your roots rain.
Take time with a friend to do nothing too important.
But just be together, to enjoy another person.
Give your roots rain.
Take time to write a poem or grow a flower,
To create something that is of you.
Give your roots rain.
For in your roots you find who you are,
And there too find who God is,
For he has not forced you into his home,
Rather he has made his home in you.
Sacred Space