Last week I was shivering in fleecy top, anorak and warm trousers; this week it has been a chance to dig out light trousers and tops. The temperature in the front garden today has been 30C  As you can see, Misty knows how to enjoy herself after her dip in the river.
Life has been busy with forays away in the campervan and visitors to stay. I love the opportunity to show off the beauties of the Highlands;  even our own bluebell walk is very special. I managed to get a shot low down, ie without falling over backwards.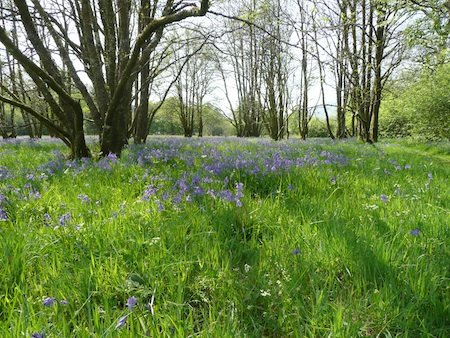 Here I am with my little sister – her small stature emphasises my need to lose weight. Don't worry it is in hand – slowly…….always slowly.
I have been enjoying a bit of a rest from the news. It's impossible to ignore everything, but in such glorious weather it is easier to forget about recession, violence and cuts. However, there comes a time when we have to get back to real life. I keep telling myself that ageing goes hand in hand with wisdom. Unfortunately, I end up with a tendency to worry needlessly, especially about the economic position in Europe and the consequent hard times for the poor, the unemployed and those who are sick or disabled..
So what's the wise thing to do right now?  Chill out and enjoy the summer while it lasts methinks. The rain will come back soon enough.