This photo says it all – we followed the weather, going north and west and toured some of Scotland's remoter places.
Misty was delighted with the weather, the campervan and lots of walks in beautiful places.  A real way for all of us to recharge our batteries.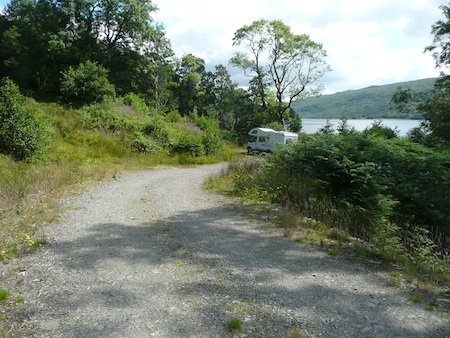 In the far west of Scotland there is always the ideal spot to be found for lunch.
Some of the camping sites are a little challenging – not to be undertaken by the nervous driver – but well worth the effort. This one was a bit like lining up on a golf tee.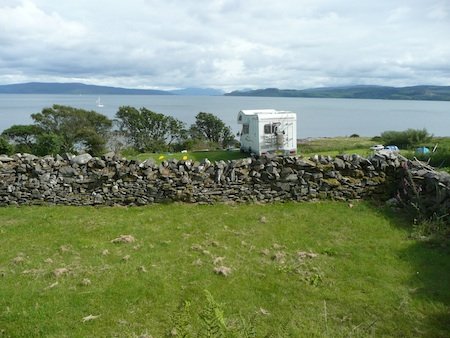 As you can see, the view was magnificent. I'm not quite sure what it would be like in the pouring rain and howling wind; fortunately, Ardnamurchan has been sunny for a couple of months. Of course it will no doubt change for them as the much-talked about Jet Stream moves back into a more usual position. I am simply grateful to have been able to enjoy the area in the dry.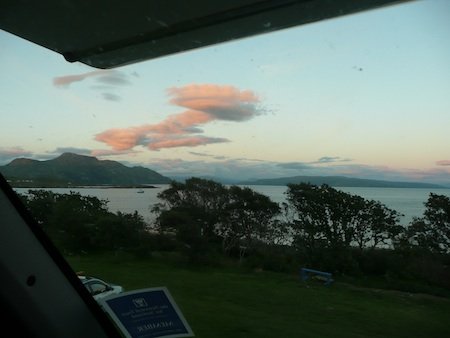 The view last thing at night. We slept with the blinds open, grateful for every little drop of beauty that nature was willing to share with us.
Now, it is back to routine chores and dealing with mail.  A pile of letters and bills sits looking at me accusingly. I'm too busy looking at holiday photos and churning washing through the machine. Then there are blogs to catch up on reading. I want to see what my blogging-friends have been up to. And then there is the Dance Class tonight.
Happy holidays, if you haven't had yours yet.