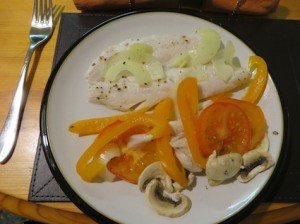 This is just to show how tempting low-cal food can be. Steamed or microwaved haddock – 100gm – together with an orange pepper, tomato slices, mushroom and onion. Total calories approx 150.
Fits very well into a 500 calorie Fast Day
Today has been a mixture of sleet, snow and howling gales. It has nearly put me off Friday night dancing but not quite. An extra incentive is the pedometer clipped to my waistband and the promise of an evening of good exercise, good company and sheer enjoyment. We spend a lot of time laughing and tying our legs and brains into knots. Much to be recommended.
Happy weekend from Dalamory, wherever you are.