John, is a friend of ours who happens to be profoundly deaf. Despite his disability he leads a very full life, and he has been helped along the way by two dogs who were specially trained to act as ears for their human companion. Hearing Dogs for Deaf People is a charity which helps to source and train dogs and then match them up with a suitable person to share their lives. The Hearing Dogs are remarkable in their range of skills and identify all sorts of sounds, like doorbells, alarms, mobiles (used for texting) and alerting their deaf person in all manner of ways.
As I explained, since we have known John, he has been helped by two dogs, one was a border terrier and the other a poodle/spaniel mix.  One of the sad things that all animal lovers have to cope with, is coming to terms with the fact that our animal companions have a shorter life span than human beings. However, John is meeting up with his new dog, Widget this week. They will receive special acclimatisation together and then their ongoing training will be followed up in the months ahead.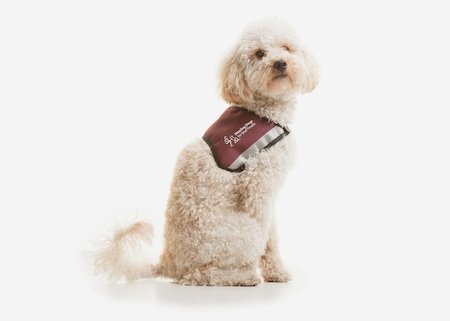 As you can see, Widget is a very fine poodle-cross. I can't wait to meet him. Part of his job is to ensure that he knows all John's friends and routines, so that he can help John be comfortable and aware in all situations. It's far more complicated than just answering a bell or two!
Incidentally, something that made me laugh like a drain was when John told us that Hearing Dogs have adapted their policy. They no longer train terriers. Anyone who knows and loves terriers will understand!
Related articles across the web