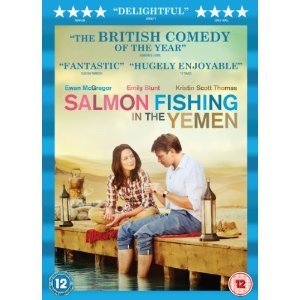 Salmon Fishing in the Yemen sounds totally bizarre. When the Librarian handed it to me saying, "You'll like this," I was rather dubious.  However, the book turned out to be an unusual but fascinating tale of machinations amongst government departments plus the assumption many people have  that money can do all things – or can it?
Whereas the book encouraged the reader to look beyond the script – largely emails, the film is a beautifully crafted telling of the story which leaves one in no doubt that the moral of the tale is not just about salmon. It is a feel-good film poking fun at the workings of politicians behind the scenes.
Ewan MacGregor plays whimsy like no other actor I know. His gentle burr of a Scottish accent is ideal for the part – or maybe I was just in that kind of mood. He excells as a government officer in the scientific middle ranks of bureacracy. Emily Blunt, responds to him well as a financial overseer, whilst Kristen Scott Thomas is only stopped from stealing the show by the calibre of the other two. In fact, the actors are all superb.
The film is directed by Simon Baufoy whose other films include Slumdog Millionaire and The Full Monty. Enough said I think. Oh yes, I give it a 9 out of 10.
How about you?