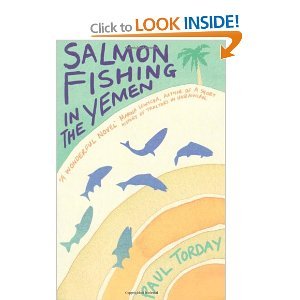 Salmon Fishing in the Yemen is rather an odd title for a book. This is a debut for Paul Torday, it is an odd concept too; it was the Librarian from the Library Van who thrust it into my hands just as I had finished making my selection last month. He just said, "Go on, you'll enjoy it."
It really is a book about salmon fishing in the Yemen, or rather a book about how to introduce salmon fishing into the Yemen. An impossible feat? So says our anti-hero, Dr Alfred Jones, a fisheries scientist with the Dept for Environment, Food and Rural Affairs. However, he becomes embroiled by multifarious means. Therein lies the parody and the humour. The backstory is about his unsatisfactory life in a lack-lustre marriage with a wife who is a high-flyer in corporate finance.
The story unfolds through a series of documents: emails, company reports, minutes of govt meetings, and investigative papers looking at the full circumstances surrounding the project. If this all sounds familiar it is intentional, and must surely resonate with the reader of every political scandal and spin expertise there has ever been.
It is funny, yes, but primarily it is quirky and unique. It evokes the charm of 84 Charing Cross Road, by Helen Hanff, perhaps because it uses a similarly understated style but updated for modern times. In essence it encompasses a much broader canvas and demands more effort by the reader.
It would probably warrant a second read and is a book I might like to have on my shelves. Interestingly it is being made into a film – I cannot imagine how that will work out. The film crew, including Ewan McGregor, flew in by seaplane for a day's filming this week, just a few miles away.
PS – did I say it is funny?