A week ago today I was talking about A New Start in blogland. I asked for comments about what people thought of the blog and what they would like to see on the blog. The answers were varied and interesting. For a start Lydia wanted (amongst other things) some more pictures of Dalamory. This one below is from an entirely new angle. A neighbour in the village had been clearing some of his garden ground, and it is amazing the view that has been opened up. Quite a metaphor for how I feel.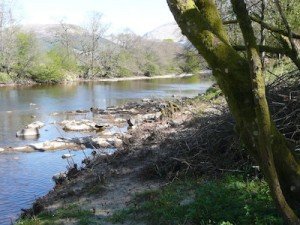 In this past week I have been encountering new people on the net: kindred spirits, people with illness, an amazing number of people in the church – some training and some in parishes or other work. One thing that has delighted me has been the growth in the number of Church of Scotland people who are joining in the blogging world. (Incidentally, how come CofS seem more reluctant to embrace change and technology? – By the way congrats to all those who are already blogging and sharing their lives.) I also read blogs from older people and retirees – as I said before – Ageing is fascinating once it starts to happen, and of course it comes to us all if we are lucky. I have found poets with amazing talents and photographers who take breathtaking photographs. And of course with the way the election is going, it has been enlightening to read the views of others and to find blogs from politicians and pundits. I strayed into the area of medical matters – after all who isn't interested in their health?
In fact, it is like the start of a whole new journey and a new world – one in which I can join, even though rushing around physically is beyond me. I have noticed that most people have an active and fascinating blogroll, so I intend to work on mine – if it is worth reading it is worth sharing. This brings me back to what I should share. My inclination sometimes is to keep quiet about personal health matters – particularly an ongoing struggle with my weight. Would anyone be interested in updates? Or is that just a step too far? I talk a lot about Misty, the cairn terrier – she wonders if anyone would like her to write an occasional guest entry.
OK – that is enough blurbing and questions. I now launch forth this missive into cyberspace, trusting that direction will come in response.