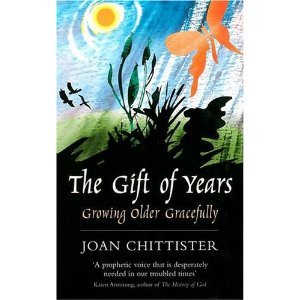 One of the books currently on the go is The Gift of Years by Joan Chittister. I mentioned it previously; it is a book to savour and just in case you're interested I am now on page 100.  Progress has been delayed because I am on my monthly catch- up of War and Peace.
When I first started studying theology at the University of St Andrews, the Practical Theology staff were very keen to emphasise the importance of "story."  It took me a while to understand what the concept was all about, but when I did it became a valuable tool in pastoral work. Visiting parishioners and members is something which congregations are keen for their ministers to do. Sometimes it's made very easy, simply because of the personality of the person being visited. At other times there is a straightforward purpose to the visit, perhaps to arrange a baptism, wedding or funeral. On occasion it can be to try and sort out a problem, but sometimes it can be a bit of a struggle, for example if someone is shy or nervous or mentally fragile with the beginnings of dementia. Then the concept of story comes into its own, and people can be encouraged to share memories and tales of long ago.
In The Gift of Years, the author seeks to surround ageing with grace and a positive aspect, rather than as a hopeless decline. Who wouldn't that appeal to?  Here's what she says about ageing and story.
Every elder in every community is a living story for the people to whom he or she will someday leave the Earth to guide as good, as better, than they did in their own time.
In the older members of every society lies the taproot of that society. It goes down deeper into the past than any others. The elders know where every idea has come from. And why. They know what it means – what it really means – to be a family, to be citizen, to be free, to be enslaved. They know the difference between evolution and revolution. And, most of all, they know that there is room for both in the development of the world in which we live.
Chittister goes on to say that the passing-down of folklore and family tales is crucial. I have to say I agree with her, and would be interested to know what you think – both young and old.