This post will have to be very quiet, it is a trip into my inner child together with some old photos………. (Misty is having a snooze even as I type, so it should be ok, and with any luck I can distract her from checking the blog today!)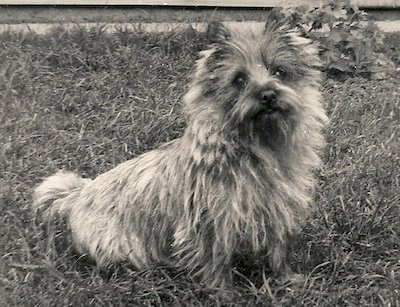 Sandy was my first ever cairn terrier. I'm not sure what age he is in the photo above, but the long hair makes me think he must be at least 2 0r 3 years old.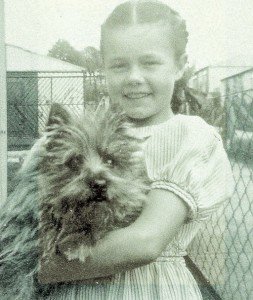 He was always a very cuddly dog, and most forbearing of a child's ways. Even though I used to think of myself as a "tomboy" – the description of choice for those who had never heard of feminism and equality, it was a favourite occupation of mine to dress him up in doll's clothes and push him round the garden in the pram. The dog-sized clothes had been knitted by my mother, so she was not exactly pleased. I'm afraid it didn't bother me – I never liked dolls anyway. Sandy was much more fun; he was warm and alive and most co-operative. I vaguely remember being told things like – that dog will go for you one day, and it'll be your own fault.
Oh dear – this reminds me of the time when I shut myself in my bedroom cupboard with a beautifully knitted doll's jacket and a large pair of kitchen scissors and cut the bottom off to make it shorter. I can even see myself holding the scissors as I write. Well, how was I to know knitting was made to unravel? Poor Mother – those were hard post-war times.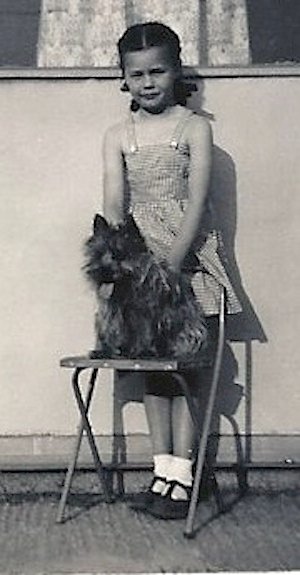 Sandy was a great companion for an only child. I talked to him constantly; and now I come to think of it, he was even allowed to sleep in my room.
He was one of the really good things about my childhood. It's too easy to remember the difficulties and to fade out the joy and laughter. That little dog certainly gave me lots of fun. He liked to be groomed with the vacuum cleaner – (the kind with a hose!) And if there was no time to give him a bath we used to rub a chalk block into his hair and then as it was thoroughly brushed out his coat plumped up and he looked comically pleased with himself, though he did sneeze a lot. I wonder if people still do it nowadays?
He lived a long life, being almost 14 when he died, by which time he had become a bit more independent and, shall we say, cantankerous even. The photo above taken when I was around 13  shows something of the close friendship we had.
He looked incredibly like Misty does now, and I'm glad to say she has the same sort of disposition: feisty and affectionate at the same time.  Happy times – what a great way to start the week….. positive memories and positive thoughts.