The Wizard of Oz is usually screened at Christmas or holiday time; Him Behind the Wheel had never seen it, so we settled down the other night for some no-hassle viewing.
What can be said about a 1939 film with all the restrictions that this means?  There were only limited special affects available at the time, and all things considered the production team did a very good job. Judy Garland is a bit larger than life, but then she is playing a young girl when the actress herself was 16. (Incidentally, is it OK to use the term "actress: these days? I'm not sure.)
HBTW was interested in the way the story unfolds, but he agreed with me that the real star was Toto, the cairn terrier who so patiently and cheekily played his part. He was on screen practically the whole time. The film is from a series of children's books featuring Toto, the author's own dog.  I'll leave you to guess why I liked the film so much as a child. (But you could look back here to find out.)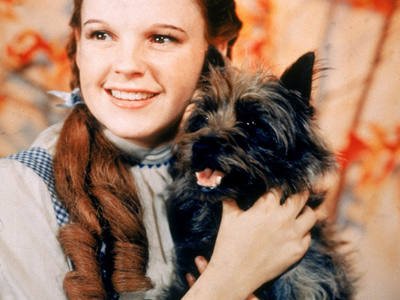 This is a picture of Judy Garland and Toto from the film.
Look at the end though and tell me how much he is like Misty – star of blog…