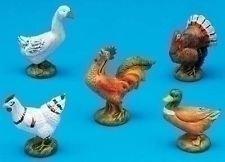 This year, the addition to the Fontanini set is to be Bethlehem Birds. They will shortly be winging their way across the Atlantic to Dalamory. I hummed and ahhed about whether to order this set of 5 or a larger one of 10.  In the end prudence won. That is if you can call collecting a whole village full of village people, angels, shepherds and animals prudent at all.
It is great fun and I like to think I am building up an heirloom for the future. Hopefully they will arrive in good time and I shall devise a game of Hunt the Bethlehem Bird on top of the piano.
Do you have any favourite Christmas/Holiday traditions?