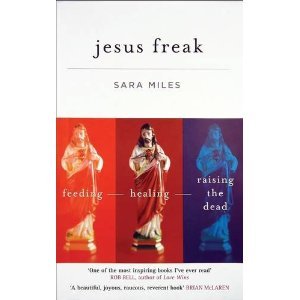 Today has been very special; being on my own has meant that I have been able to have a Good Friday devotion, which has consisted of reading this book. To be honest, I was barely able to put Jesus Freak by Sara Miles, down.
It is a collection of stories about everyday Christianity, as lived as part of the ministry of the church of St Gregory of Nissa, San Francisco. The stories are challenging, beautiful, mysterious, funny, hopeful and full of living faith.
It's hard to do justice to such a book, which is part biography, part theology and part narrative. It is compelling in its frankness and it pulls no punches about Christianity and faith, inclusiveness and the true cost of forgiveness. To coin a term, it is liberation theology. Life as it is in the raw.
If you get a chance to read it I would love to know what your thoughts are – particularly in relation to the ideas of Jesus being the one who wants to revolutionise society, family and church through us, by taking Jesus at his word. Go feed, go heal and go and forgive.