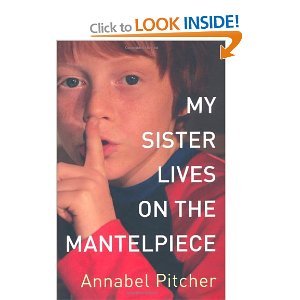 We had another power cut yesterday – 10 hours in total; that is the ninth significant outage this winter. It was less stressful than previously because I was enjoying Annabel Pitcher's debut novel – My Sister Lives on the Mantlepiece. I was well into the story, enthralled by the voice of the storyteller, (10yr old Jamie,) before discovering that it is actually written for children. No wonder the language was sharp and clear…… no wonder there was little swearing.
Thanks to a new LED lantern it was easy enough to read the print and quite fun to be able to read for a long period without interruption. The narrator's point of view took me right back to my own childhood; what at first seemed like a fudge of commentary on the story, became eventually a rounded out picture of a family living through tragedy, crisis and grief.
The book is no namby pandy botch-up of a story about loss. It tackles prejudice on all sorts of levels. All in all I was impressed at the craft of the writer. It reminds me slightly of The curious incident of the dog in the night……… but only in the sense that the story-teller's voice unfolds in tune with his understanding and emotional growth.
Interestingly, I was given this book by our Mobile Librarian – I suspect someone else's mistake is my gain.  It leads me on to think of reading some other children's literature. Any ideas and views? (Apart from Harry Potter of course!)