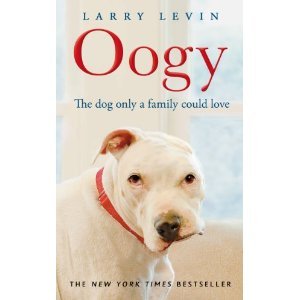 It's not that I spend my whole days reading, though I do love to read, it's that I actually got to a real live bookshop this week. Now I am one of those people who just cannot leave such a shop empty-handed. After all, it is important to support local shops every now and then.
I saw the book about Oogy – who is an injured Doga (Argentinian mastiff) and thought that it would be a story which would bring me to tears, and after all, tears sometimes are good for one. HBTW just shook his head in a resigned fashioin.
I took the book home and haven't been able to put it down since. It is certainly not a sentimental book – I didn't have even a tear in my eye. It is about adoption of an injured dog and adoption of twin boys. It is about growing a family – a special kind of family. The book is about courage, acceptance and incredible hope. I have to admit that I am very wary of any dog that resembles a fighting dog. Everything to do with dog fighting is anathema to me. And I have shared in my blog before about how anxious I can be since Misty was attacked by a rescue dog. So this book is as much about learning to overcome prejudice as an animal story.
At the risk of spoiling it, I will just say that Oogy is now in training to be a pet therapy dog. That says it all.
Has anyone else encountered it?