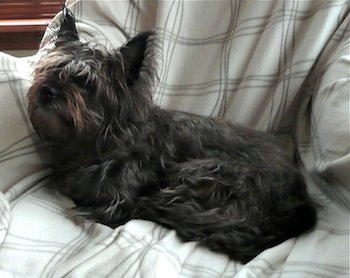 Here is Misty is drying off from a bath. Talk about fluffy! The bath is in honour of a family get-together over the weekend, when all 17 of us will be together for the first time since nearly 6 years ago. (And yes, there is going to be champagne.)
Incidentally, the little dog is going to be clipped next week, so I am hoping it gets a bit warmer.
I'm not sure if bathing the dog counts as a BMT – it is certainly a grand event. Preparations have to be made in secret. Firstly the special shampoo is fished out of the cupboard and smuggled through to the bathroom with a mixing jug. Misty has a selection of towels but the one of choice for a bath has to be the large cream bath-wrap. It has been warming in the airing cupboard all ready. Last of all the electric shower has to be set to Misty-heat. It took us a while to realise, but our little madam likes her bath to be warm to very warm. I guess it suits her joints.
By now, Misty herself, is looking rather anxious and is starting to creep under a chair. After much coaxing she is lifted into the bath and her attitude changes from resigned to marginally accepting. Gentle lathering is the order of the day and a good rinse. She is then wrapped cozily in the towel and rubbed down. This is followed by a blow-dry – again on a gentle heat.
Don't worry, once she is brushed out she will look much better, though her eyes will probably remain hidden until the travelling beauty parlour comes next week.