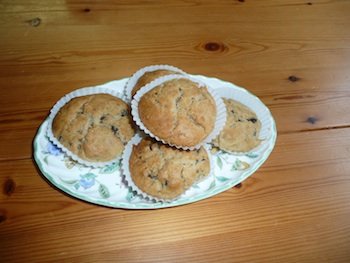 As explained previously, HBTW has to have a gluten-free diet, so we have been trying to experiment with baking. Shop-bought Gluten Free cakes and buns are not a great success.
Today's Birthday Month Treat was to try and devise a recipe for a kind of cinnamon and date rock bun. And in the end they turned out very well.
Recipe:
300gm Dove Self Raising gluten free flour
1 teaspoon baking powder
2 teaspoons ground cinnamon
100gm brown/demerera sugar
40gm chopped dried dates
40gm mixed peel or sultanas
2 eggs
Milk to mix
Mix all the dried ingredients, add in egg and milk and use on folding setting on beater or stir well with spatula until mixture reaches dropping consistency.
Bake in around 20 small cake cases at 200C for 20 to 25 minutes.
Delicious! And good enough for Shrove Tuesday – even though they are not pancakes.