It has been a busy few days – last minute shopping and chores to do; they were made all the more Christmassy by the couple of inches of snow that we have now. Most secret of all was a visit to the pet supermarket for gifts for you-know-who. There are two grand present openings, one here at home and one at #1 Son's home. So that means extra treats.
Present opening for Misty has become more anticipated with each Christmas; this is her fifth. Indeed when she saw the tree and decorations appear, she joined in the excitement with great glee. I am almost certain she remembers the excitement of a parcel to tear open. Did I tell you that last year at Son #1's party she was espied creeping away down the hall with a cairn-sized parcel in her mouth? That is why there are extra gifts this year- so that we can take a couple with us to be opened on Boxing Day.
The pet shop was full of Christmas joy for animals; admittedly some of it was decidedly tacky, but as HBTW said, tackiness is allowed at Christmas. (That is his yearly mantra as we discuss houses with coloured lights festooned outside.) Purchases included: a giant stuffed teddy with pink nose; a doggy-choc Santa; a small furry lamb that squeaks; a festive chewy shoe; and a Santa hat.
Sadly, the goat, the dog and the shepherd boy (Fontanini) are still in transit somewhere. Most disappointing. They'll have to come soon or they'll miss the festive fun.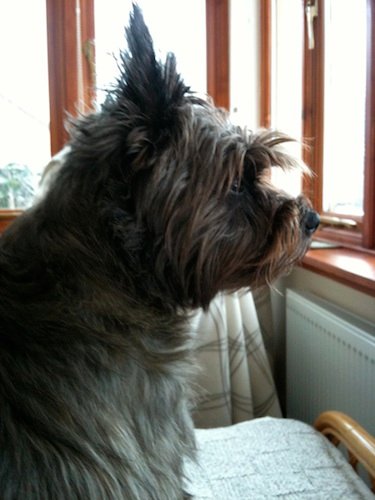 Misty is spending a lot of time looking out of the window, I'm not quite sure if she is watching out for deer, or waiting for Santa.
Either way, she won't be disappointed.