Take a guess what this is?  The straightforward among you might say that it is water or maybe vodka or maybe gin, and possibly marzipan sweets or boiled egg. But – the glass is overly large for spirits so it is probably water and if it is a snack then chopped up egg is the most likely. You might also fear for my sanity or wonder if there is a miracle of birth at 71 coming along. On second thoughts, nobody would think that – except perhaps somebody who has had a clutch of children and is getting well into their dotage.  Ahem . . . . . . . .
Does the next photo help?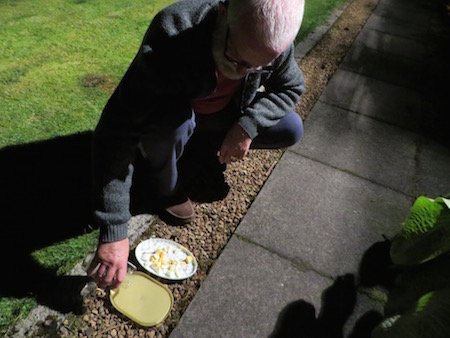 Dead of night – the shadow gives it away. HBTW (Him Behind the Wheel) is pouring water into a shallow tray. Aha! whatever it is cannot drink out of a glass. So if it is not escaped monkeys, dexterous pine martens or squirrels then the chances are that it is food fit for a hedgehog. Indeed that is the case; we have in fact been seeing a happy little hedgehog shuffling about the garden during the dark evenings. This is the time of year when these delightful little animals need to stock up their fat reserves in readiness for hibernation next month. I have it on reliable information that they like hard-boiled egg. And appropriately sized helpings have been disappearing. A whole egg is too much – it seems that about a third of an egg is about right.
So much for our friends the slug-eaters.
Misty has been in a photo-shoot as well.
New tartan collar – not always easy to photograph. And brand new raincoat. (Excuse the background, when taking pictures of Misty it is a case of grab your camera and grab your chance when you can. Moments don't last long.)