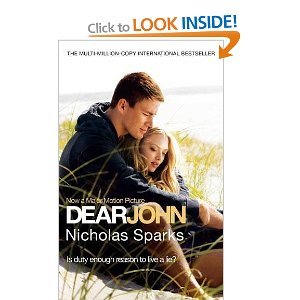 Nicholas Sparks is on top form with this 2006 novel which explores relationships in his typically quirky and individual style. Not unexpected from a writer who has given us The Notebook and Message in a Bottle.
The hero is a member of the United States Army who finds love but also finds himself conflicted with duty to his country following the events of 9/11  He falls in love with a girl who holds the key to helping him understand his father and their unusual ways of communicating.
It is not really a "feel-good" book – or is it? Certainly, the plot twists and turns in unusual ways. As readers we learn about maturity and tolerance and ultimately we are convinced of the reality of true love. I read it whilst struggling with a biography of the Queen (more about that if I ever finish it,)  In fact, I found myself almost unable to put Dear John down. And that despite the fact that the plot was not going the way I wanted it to. Perhaps I am too influenced by fairy stories or romcom films.
I think it deserves a nine out of ten. What do you think?