A little bit of mayhem this afternoon and You-know-who has been very busy. Misty still thinks Christmas is a tradition thought up purely for her pleasure and delight and insists on trying to get into the wrapping paper and in among the sparkly string. It doesn't make for easy wrapping of presents.
At one stage this afternoon all went quiet so I went searching….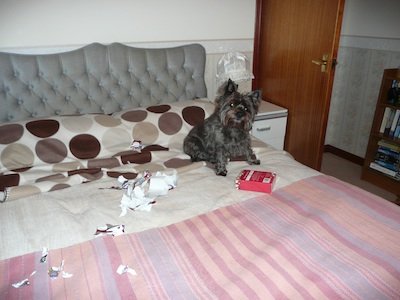 Photographs don't (usually) lie, and here is the evidence. Little Madam had found her way into the bag of her own presents, (I had wrapped them while she was out for a quick walk with HBTW earlier.) There is no doubt but that her nose led the way, and she had deftly unwrapped the chocolate Santa. I suspect her look says that she knows perfectly well that this was not the right thing to do, but it is hard to scold a girl for taking advantage.
The photo on the left shows double trouble and also I suspect illustrates that she was pondering how to get the box open. In the end I opened it for her and rationed her to a small piece of doggy choc (carob based.)
As to who left the package on the spare bed in the first place, well no-one is owning up.
Later on, after a bit of a rest Misty needed to go outside. She stopped in her tracks at the doorway in an attitude of absolute shock and surprise…….. while a red deer reluctantly dragged itself away from the decimated ivy round the door; it slowly bounded away…….. yes, slowly……… and hopped over the fence. The poor deer must be starving in this extreme weather, but it wouldn't be fair to start feeding them. In fact, there is probably a law against it.
The recalcitrant one has now settled back on the spare bed woofing gently to herself as she ruminates on her adventures. I, however, need a holiday.