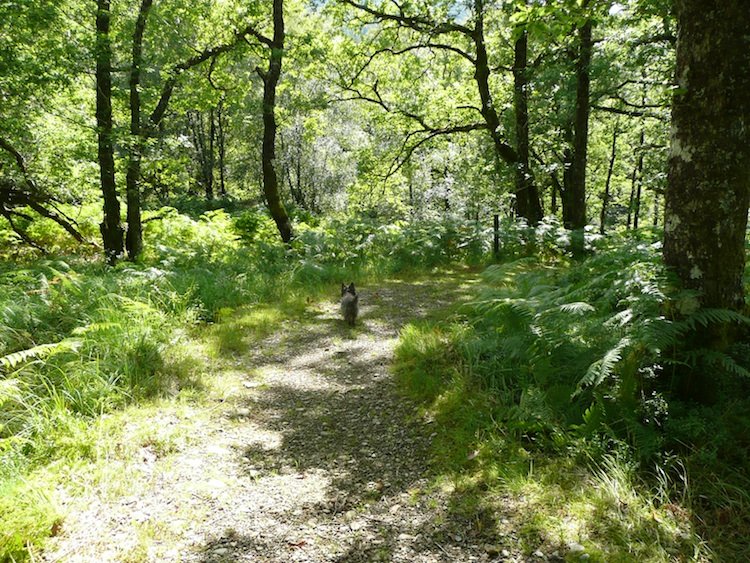 This is a photo that epitomises the best of having a dog and living in the countryside. The sunshine only serves to make it all better. We all know that taking exercise is good for us, but sometimes…….. well it is harder than at other times. Especially now that the tennis-playing days are over. I tried to like golf, but despite having a few lessons I never really got the hang of it.
Having an enthusiastic little dog is the best incentive there is. She starts looking hopefully before lunch. Then, if there are no signs that a walk is likely to happen soon, she takes herself off to the spare bed to be wait patiently. She rallies a bit if dusters and vacuum appear – that means a good game of playing squeaky ball in between the chores. Then, after lunch there is the heavy sigh while the adults have a snooze. After that, if no signs are evident, there is great sighing and definite sadness as she creeps away to be very, very sad.
But Oh the joy and excitement if the "signs" are there. (Changing trousers, shoes, locking the front door, and eventually reaching for the collar and lead………)  Then, it is as if she had never been for a walk before. Dancing around is a great feature, as is bumping – rather heavily – into the collar-holder's legs. By this time, everyone is smiling and we set off for the adventure of the day.
Every walk is a great new experience: deciding whether to walk from the house or take the car, then smells that have changed or are new. There is always Mum and/or Dad to protect her from other dogs that are too big and bouncy – though it is usually only the regulars. There are strange rustling noises in the grass that need inspection, and mice to pounce on, never mind butterflies to chase…….  Oh what joy to be a little dog and her minders.
The photo is from one of our favourite walks. You have to look closely to see Misty, she is so well camouflaged being a brindle; she seems to blend in wherever she is.