It has been one of those days for wildlife………. not the wild partying kind of days of yore, but for seeing and getting news of the birds and creatures around us here. First of all I drew the curtains to be greeted by a juvenile pied wagtail looking up at me, then the sparrowhawk insisted on perching on the bird feeder and last of all I heard from a neighbour that they had sighted a pine marten in the back garden ground. It is a new house, so the pine marten probably thinks they are the intruders not him or her. No photos yet, but you can see some lovely images here. We have also heard tell of the mink spotted in a nearby burn, and I rather suspect that some of our late cat's scars were down to scraps with them rather than other felines.
It reminds me of our visitors at the weekend. Around lunchtime several deer came into the rough ground at the back of our garden. The visitors immediately rushed for cameras and started snapping. Here is one of the photos they later emailed.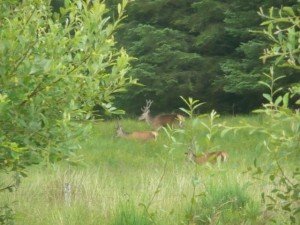 Beautiful isn't it? At the time HBTW and I just looked on. Shows how easy it is to get desensitised to the beauty of nature and creatures all around.
Another friend phoned and was telling me that he had been reading the blog and was interested to see that I was turning into a reflective philosopher. I'm not so sure about that, though it is quite a happy thought. The trouble is that my thoughts come from a random selection of sources. Sometimes I wonder if people expect more about Christianity when they stumble across this blog, after all here I am a retired Minister. All I can say is that I do my best not to beat people up about faith, the church and God. We all find our own paths and a gentle word here or there may well be used to help us in the hard times.
For today, it is enough to be grateful for the times when we can be still, watch, breath slowly and be fully part of the moment when a little bird appears, wagging its tail and bobbing its head saying Good Morning…….