Autobiographical books nearly always catch my imagination, but in the case of Dog Days in Andalucia, I have to admit it was the doggy eyes on the front cover – spotted it across the room in a bookshop/cafe and I was lost.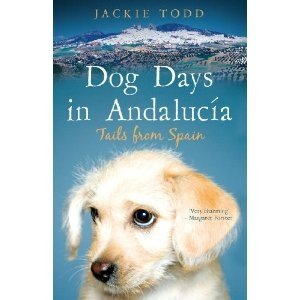 It always interests me to read tales of people who have upped sticks and moved to another land or even to far-flung parts of the UK. But it is particularly evocative to read of stories that include details about the everyday culture, including such things as weather, customs and architecture.
Jackie Todd writes well and with an immediate and compelling style which draws you into her world with empathy and joy. In 1997 she moved permanently to Andalucia with her architect husband. He had always promised that when they lived full-time in Spain, (such a wonderfully affirming word – when) she would be able to have a Spanish pointer dog and a Mediterranean tabby cat. However, they end up taking on more and more strays and abandoned puppies and kittens. Eventually they have to become reconciled to being foster-rearers and re-homers. 10 dogs and 9 cats of their own are a big enough houseful.
Along the way, we learn of their projects to buy old properties and restore or rebuild them as holiday lets. You can see their website here. Have a look and drool, or maybe be inspired, who knows? I've never been to Spain but the website is certainly inspirational.
It would be interesting to hear of anyone who has visited that part of the world.