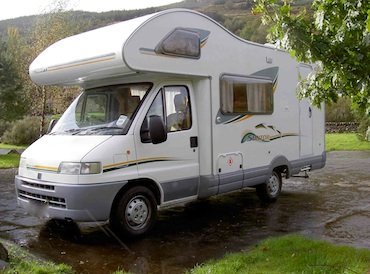 One thing I have learned throughout life is that things change. In fact I've always considered myself fortunate in that I usually enjoy change and even thrive on it. However, this is a sad post for me as it concerns our dear old motorhome. Those are appropriate adjectives – the dear and the old, for it was showing signs of wear and was costing more and more to keep it roadworthy.
Of course the dear and the old apply to myself and HBTW too.  We have found it increasingly difficult to do the cleaning and maintenance. When the Other Half took it upon himself to scale the ladder and balance up top for cleaning, I more or less had to stay out of the way as I couldn't bear to watch.  We waved the campervan goodbye last week, with the hope that someone fitter and more agile would be able to do the necessary.
It has been a most enjoyable 12 years of travel, holidays, visiting family and having Days Out. During that time we have got around a lot, including the following:
An autumn trip through the Yorkshire Dales
Northumberland
All the way round Ireland
Somerset, Chester and Bath
A week near York
Right round Scotland in various stages
Regular trips to Ayrshire, Nairn's Sunshine Coast
A holiday on the Isle of Mull
Kintyre
The Mull of Galloway
. . . . . . . . . . . . . and many more than I can remember right now.
In the process we had several accidents, though none of them serious or involving other vehicles. The main problem was that there was a tricky overhang which could cause trouble when going on and off ferries. Contact with the slipway kinked or broke the waste water pipe (from the grey water tank,) on more than one occasion.  Eventually HBTW had a brainwave and got our local plumber to re-route the pipe so that it was further forward. There were no more incidents.
We have camped in the snow and sat and watched many a beautiful sunset.  And we haven't seen all of Scotland yet, so I am hoping we can still continue to travel – though it will be in a more sedate fashion. B&B's, hotels, lodges, static caravans . . . . . . all of which need to be dog friendly for you-know-who.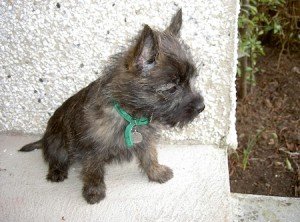 Misty has travelled in the van from being a very young puppy. Truth be told, she has made the whole experience even more fun.
She was sad and a bit confused to see the campervan drive away with a stranger at the wheel. And as to the emptying out of the said vehicle on the previous day – well, I really should have taken a photograph. Where on earth did all the stuff come from? There were blankets, pillows, sleeping bags, cushions, dishes, pots and pans, art materials, books, tins and packets of food, and a multitude of tools and things we carried "just in case."
Most of it is packed away or assimilated into the cupboards in the house or garage. Some friends helped by taking a whole load of gubbins to the Charity Shop, which was much appreciated. At the moment there are a couple of (difficult) boxes to tackle and after that it will be a case of scouring the internet for some likely places to visit. No wonder friends think of us as having itchy feet.
Come to think of it, maybe change is good when it comes to the later part of life. There are projects galore to think of doing round about the policies, as it were. And new ways to enjoy a change of scenery are not beyond us. The most important thing is to have a flexible mind and not to get stuck in a rut. Moving out of one's comfort zone is no bad thing. Thus, I look forward . . . . . . . . .   now where are those suitcases?