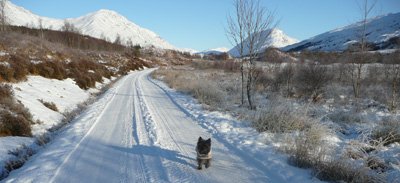 Hogmanay has meant the customary house cleaning – and an emergency call to our plumber. Thankfully, it turned out to be a condensation problem. So I gave myself a talking to for being uptight over a few ruined bathmats, when thousands of people are totally submerged under feet of dirty water. The solution for us is going to be a small amount of extra lagging on a few feet of copper pipe. We are indeed fortunate – especially as the local plumber was willing and able to turn out within 5 minutes.
On a more philosophical note, I turn to other things. As usual at this time of year I have been thinking a great deal about my Gran. She lived until 1976 and never had a television. She was kept busy doing her crochet or knitting or walking to the shops to hunt for bargains in brightly coloured wool or yarn. I've been a bit limited in what close work I can do, because of my double-vision, though I suspect that such an inconvenience would not have stopped Granny, for she could crochet and knit in the dark simply by feel. Her fingers were gnarled and red but they flew back and forth as the needles clicked and clacked.
One of the problems highlighted by this afternoon's incident of finding the unexpected puddle in the hot cupboard, is the way I get so anxious over the simplest of things. I have been assured that this is the result of the TIA's as is the diplopia.  Despite being aware that anxiety is a symptom and not a fault in myself I still beat myself up for not seeming to be able to control it. Somehow I tell myself, this has to stop. What better time than Hogmanay? I have tried many a time to think it all through – especially relating over-anxiety to faith, or the lack of it. And I find myself remembering a lecturer at university who tried to instil in us some sense; his premise was that no-one is super-minister/vicar/priest/whatever. One of his favourite phrases was that we should never refer to ourselves in a way that started with I should / ought / must . . . . . . . .  In other words, the advice was not to load ourselves with unrealistic goals.
To be honest, one of the things I learnt through my first job, was that it was useful to lower my expectations of myself and others. Looking back I wonder whether this was not the result of a difficult time trying to please too many people as I learnt the tools of my trade, as it were. Let's face it, we learn as we age that it is impossible to please all the people round us all of the time. If we manage to please others some of the time, then we are doing well. Come to think of it, this could be applied to our politicians, after all surely most must start out with the urge to make things better.
OK – maybe not, though I like the honesty of some of our elected representatives who are willing to accept that they don't always get it right, but will try to do better. Come to think of it – these ramblings might have reminded me of some strategies which might help me achieve at least the partial resolution of my problem.
Being an older citizen has its perks. After all we can lie abed, get up in the middle of the night, watch tv or gravitate towards the computer whenever we feel so inclined. I can even plead the onset of old age and illness for my anxiety disfunction. The fact that I choose not to, has to be progress of a kind. So here is the New Year Resolution for 2016 – when overwhelmed with anxieties and the urge to run around saying, Don't Panic! Don't Panic! like Corporal Jones in Dad's Army, take a deep breath, step back and say, Stop! 
If I can manage to intervene in what has become a psychological loop-in-the-brain, I have a good chance to change things. If the worst comes to the worst I can resort to my blog to have a grumble or to share whatever aspect of life is getting to me. I hesitate to say, Watch out. . . . because you might not come back to read or share your lives with me.
All that remains is for me to send Blessings to readers and friends and to wish you a portion of common sense and good luck in making, or not making New Year Resolutions of your own.