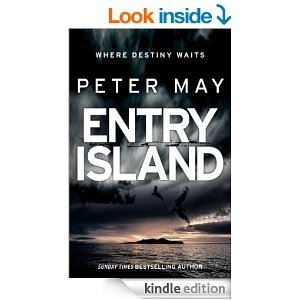 Entry Island is one of those books that pulls you into a story which is a story behind a story. The author handles the shift of time and place in an imaginative way and before long the book has you in its grip.
Entry Island, as its name suggests is at the entry point of immigrants to Canada in the 18th Century onwards. The people come mainly from Ireland, Scotland and France, though Peter May chooses to centre on the historical Highland Clearances from the Hebrides. I found myself gripped with the injustices and harsh treatment of crofting villagers. Being brought up in England, I was not up to date with the history of the famines and land disputes, though I am told by Scottish educated friends that the story was not always told in a balanced and fair way even in the Scottish educational system; thus Entry Island puts forward an emotive and strong view of landowners versus crofters.
There is an ongoing murder investigation with the lead investigator being a deeply troubled man in his personal life. All the makings, then, of mystery, intrigue and political history. The writing is vivid both in terms of narrative and description. May's weather is so real as to enable the reader to get wet in the storms and blown off their feet in the gales. You can taste the electrical current in the lightening and gasp for breath as you read on and on – captivated.
I am a recent convert to Peter May, having read his Lewis Trilogy. To anyone who knows his writing, this latest offering is a classic of its kind. One to keep and return to at a more leisurely pace another day.
Characterisation is believable but maybe a bit over the top and for that reason I have marked it down to an 8 out of 10.