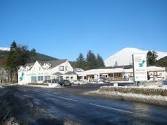 Today was set aside for a shopping trip. Now that could have meant driving 70-odd miles to the big city, or 25 miles to the small town. Instead, we chose to drive 12 miles to the Green Welly Shop. Ostensibly an overgrown Service Station, it has developed into a mini-department store with all sorts of goodies; everything from liquorice and whisky to rugged walking boots and designer anoraks. It is usually very busy, with a car park that is more suited to an out of town retail outlet than a collection of buildings in the middle of the mountains. It has sort of grown like Topsy over the years until it is what can only be called an emporium.
Part of my mission was to choose myself a present from one of the sons and his family. Needless to say I overspent quite a bit – a new Jack Murphy 3/4 length coat, a new fur trimmed hat suitable for the Arctic weather we tend to get here in Jan/Feb, a new chaffinch mug and some of the aforesaid liquorice.  HBTW hasn't got his pressie yet, it will probably have to be online shopping. (Trousers in case you are interested.)
I can't tell you the other presents we found, just in case someone reads this post and makes a lucky guess. But it was great fun being amidst all the decorations, music and enticing gifts. Afterwards we descended on the Village Gift Shop for our bi-annual visit. More gifts and this year's new decoration for the tree – an old fashioned bauble with a snowy village scene etched on it.
This week we still have to visit a couple of shops in the local town and that I hope will suffice. A very different shopping experience from most years –  lately I have tended to shop online to take some of the strain away. This year it has been made easy by shopping as locally as possible. It should be noted that for anything electronic or gadgety we would have had to either travel or order over the net.
All along the way we were met with smiles, gentle chatter, the offer to wrap presents – free(!) and in one case some complimentary chocolate. We refused the whisky-tasting because of the hour and having to drive home.