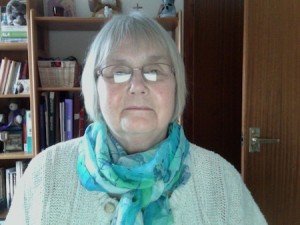 Language is ever-changing and new words are coming into everyday use. I thought Onesie was the word of the year – basically a babygro (either with or without feet) for adults or children. I couldn't be bothered with the whole palaver of going to the you know where.
Selfie is what the photo is of – basically a self-portrait photo. This one was taken on Photo Booth on my imac. Binge-watching was another new word I liked the sound of – we do that regularly when we watch boxed set re-runs of NCIS or Foyle's War. I am told that twerk is a sexual dance; I wonder if our Friday night Dance Class's rumba counts – or would it be a pole dance or something even more exotic?
Showrooming refers to the practice of going into a shop to look at some items, then going away and buying self-same things online. HBTW thinks shops may have to start charging an entry fee. I am so reliant upon online services and goods that I find it hard to comment. I suspect we have probably all been guilty of browsing in a shop then buying from home later.
Have you found any interesting new words recently?