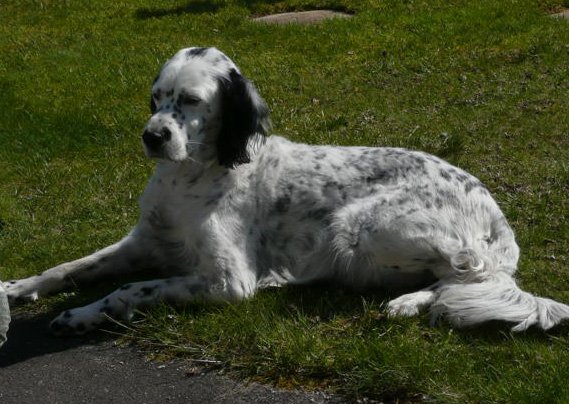 Valentine or ViVi for short, is here to stay for a few days. He is behaving impeccably and acknowledges that Misty is Top Dog………  though only just.  He is a Llewellin Setter, a strain named after a breeder who bred a dog with particular markings and characteristics from out of the English Setter.  They have wonderful temperaments, being good with children and very affectionate. It is so funny to see the difference in size between him and our little cairn terrier.
Other news is that my ankle continues to heal well with only the odd twinges. Going back to Dance Class is looking more of a possibility. The main problem is being unbalanced and doing further damage by forgetting to take things steadily. How can one do a samba steadily anyway?
I never get tired of the view from the font garden – and Misty shows Valentine how to be a laid-back dog.