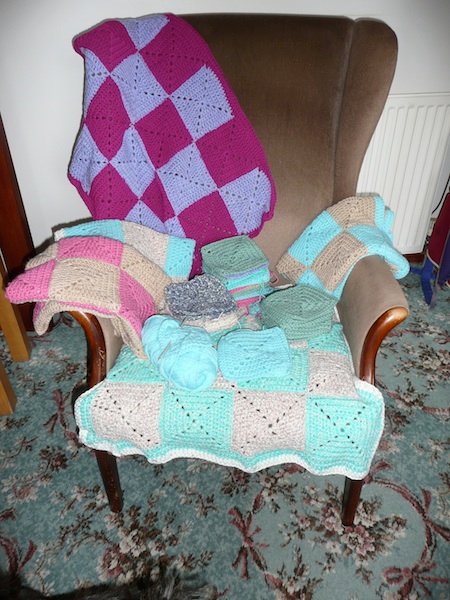 This is a photo of my craft efforts of the last few weeks.  My Granny taught me to crochet when I was very young and ever since I have enjoyed the soothing action of crochet hook and yarn producing simple patterns. She made piles of berets, I go for squares, ultimately sewn up to make lap blankets, shawls or cot blankets. They also make quite good chair covers. Somehow or other the whole process is good for the soul.  Some of these are destined for troubled spots abroad in Eastern Europe, Africa and Asia, and it is good to be able to make a connection by thinking or praying about the people and children who may get some use from them.
During the last week it has been especially helpful for me.  I twisted my ankle and foot quite badly so have been sitting in state with one foot on a stool. Crochet can still go on apace, and I can half-listen to the news or TV programmes in the background. Which brings me quite neatly to the death of Margaret Thatcher.
When she became Prime Minister I was a busy mother with four small children, as well as being a manager in commerce. Truth to tell, I was probably not as politically aware as I should have been; looking back though I see the seeds of many of our country's problems as occurring during her time in power.  The whole sorry tale of the banks and financial institutions; the ever-increasing difference between those who have and those who do not; an increasing tendency to think of the self rather than others; a lack of consideration for those who are disabled – unless they can don carbon-fibre prosthetics and run very fast…….
Harrumph………. ok, Thatcher was a dedicated believer in a form of politics which she viewed as good for the country.  She meant what she said, and she got on with things. She was a force to be reckoned with on the world stage and fortunately, she was never faced down. I recognise that many people think of her as some sort of saviour, but many others see her as the destroyer of communities, heavy industry, manufacturing and the solidarity of working people through trades unions and dangerous jobs.
I am uncomfortable with the idea of people publicly holding celebrations because she is dead.  I think it better to respect someone's passing whilst being able to be realistic about their contribution to life. Baroness Thatcher was a frail old lady at the end of her life and the latter half of the 20th Century was largely shaped by her and her beliefs.
As for me …… I shall get back to my crochet. How about you?