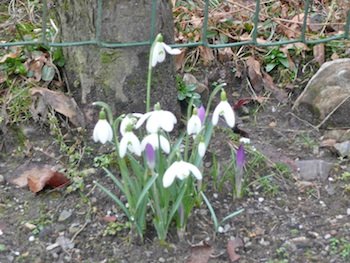 #1 is already set – all about being prepared to be braver in my opinions. In other words, not to be a wimp because I am worried about upsetting people. I suspect this is a non-starter as I don't do conflict very well and to be honest, I find that people don't really respond well to being able to agree to differ.
Can it really be twelve days into the New Year? Where did they go? I'm probably like many another person who feels a bit off-colour and sort of jaded. No – I didn't overdo the spirits – at least hardly at all. However, this is the difficult part of the year when spring seems a long way off. As far as I can gather, January is the time of year when there are high sales for self-help and self-improvement books. I've not been tempted, but think it would be a good idea to start off with 12 improving resolutions, remembering of course to make them open and do-able.
As aforementioned.
Try to remember to count Weight Watcher points so that I can watch the weight graph start going downwards again. For anyone who is interested I have lost a stone since the end of April last year. Slow but steady seems to be the way.
Try to take more exercise. This has got to be a no-brainer, exercise helps on all sorts of levels including fitness and mood.
Try to build in some piano-playing into my routine.
Tackle paperclog before it gets out of control instead of fire-fighting it.
Enjoy sharing time with family and friends.
Keep up on facebook.
Remember to be thankful – a good discipline is to think of at least three things every night, concentrating on times when God has seemed very close. That can be as simple as a snowdrop blooming or as profound as a child's smile.
Learn how to do video-editing…….  don't be beaten by technology.
Have fun planning treats – why wait for the birthday months….. mine and HBTW.
Try to avoid needless worry – this applies to all the nasties over which I have no direct influence, and alongside this, avoid anxiety.
Remember God's love is for everyone and try to share that love wherever I am.
Have you any special ideas for yourself?