Misty, most unusually, did not feature in my previous entry.  A whole month's catch-up and no mention of the little dog……  As a friend pointed out, was she hibernating? Well, Herself does not much like this time of year, though she did enjoy the Day Out in the campervan. The most traumatic thing for Misty, was when us humans had a whole day away and Misty was left behind.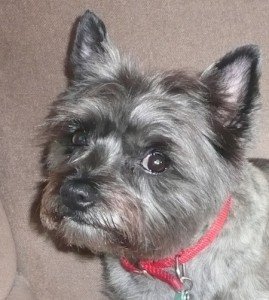 Being left always results in very sad eyes and many sighs. And as we go out to the car I can hear the whole house being informed that Misty is in charge so everything and everyone had better be well behaved and in good order. Not that she is nervous or scared………  well maybe a little bit.
On that particular day we had arranged for a neighbour to call in at lunch-time to give the little girl a walk.  This was a departure from the norm as she has never previously been left for a whole day. N told us the story the next day.
Lunchtime duly arrive and N came into the house calling for Misty. No response and no noise. N shouted for Misty again, this time adding in the incentive Walkies, walkies.….  Still no response. So N goes through the utility room and into the dining area. From underneath the table comes a sound.
Grrrrrrrrr!
Oops, the silly little pooch had got a fright and not recognised the kindly neighbour – incidentally the same neighbour that Misty is desperate to see when she is out in the garden. All ended well as the neighbour bent down and reassured the nervous dog jingling the collar and lead.
Now each time we go out, Misty looks even more nervous than usual, but we haven't repeated the experiment yet.