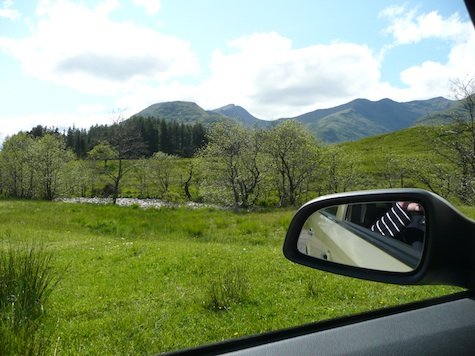 Picnics are one of my greatest pleasures; I remember sandy sandwiches as a toddler and what I thought was sheer sophistication – salmon out of a tin eaten with plastic forks and washed down with orange juice. The fact that it rained most of that day failed to dampen my spirits but of course fair weather is always welcomed for picnics nowadays. As you can see from the photo above, we have tremendous spots nearby. This one is a favourite spot for a thermos of coffee after walking the dog.
When the children were young most of the picnics were on beaches and usually involved collecting wood, making a fire and cooking sausages. We didn't often have the "lashings of ginger beer" that End Blyton talks of, but on occasion a thimbleful of pink martini made an excellent aperitif.  Friends joined in and we soon formed an encampment staked out with windbreakers, seats and rugs. Mosts of the beaches were of the deserted but beautiful and inaccessible type, so we might have had to carry cool-box, drinks and accoutrements a long way and even down a cliff.
Nowadays, picnics are more sedate varying from today's dog walk followed by afternoon drinks to a full meal parked up in the campervan. Having doggy company is de rigeur, as is the boiled egg with a twist of salt.
Undernoted is a picture of cairn being where a cairn should be……. dreaming of picnics past and future. Where was your favourite picnic place? Or maybe you don't like them.