This is an idea for charity knitting that is used by Oxfam and various other charities. My knitting friend assures me that it is very easy and can be varied very easily. If you are interested, the instructions are here. The picture on the left is of one side. The one below is a finished garment.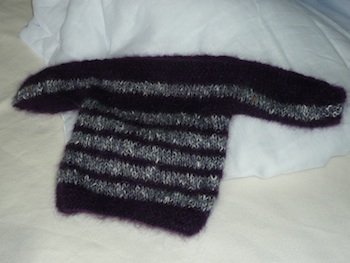 KF has been happily knitting up some of my left-over wool from projects of long ago.  There was a huge bin-bag full of it – sitting waiting to be taken to the charity shop. KF saw it and offered to be the knitter. What a tremendous way to contribute to charity. The jumpers are organised to go out in batches, and are of all different shapes, sizes and colours. It's a novel use of the wool and a change from knitting squares for blankets.
Knitting and crochet are both ways of keeping the hands busy whilst at the same time calming the soul and spirit. I still remember my Granny showing me how to use a crochet hook. She used to scour jumble-sales and wool shops to find bargains. Her favourite garments were shawls, scarves and berets. When she died, we found a pile of about 25 berets (hats) waiting to be given to a good cause. Over the years these have come back into fashion again and again.